Pink is a super cute color, and there are many pink-hair female characters in popular anime. Anime characters always have a variety of colors in their hair, and sometimes different hair colors corresponding to different personality.
The famous Japanese voting website charapedia held a vote ranking of 10,000 people, to vote for the most popular pink hair anime characters. They asked 10,000 fans about the most attractive pink-haired character in anime/manga history. The result turned out that these welcomed pink-hair characters are mostly female.
Let's take a look at the top 18, and guess which character is No.1 before you check it out.(≧∇≦)/
18.Utena Tenjou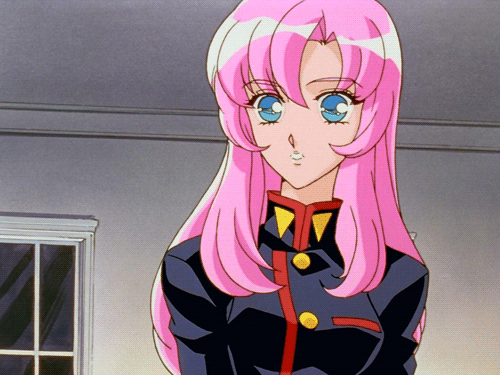 Anime: Revolutionary Girl Utena
Utena is a young girl with pink hair. As a child, Utena was saved by a prince. After that, she decided to become a prince herself and started dressing like a man. She is a sporty, lively girl who values friendship very much. Rather than be a protected princess, Utena wants to be a heroic prince! This anime was broadcast in 1997. It is a very early Yuri anime that discusses women and gender relations.
17.Sheryl Nome
Anime: Macross Frontier
Sheryl's hair is not normal pink. Her hair color is gradation of strawberry and blonde, which is really unique. I love her hair color, it's more tender and romantic than normal pink. Sheryl is a singer and also known as the Galactic Fairy. She is very popular. Beneath her cute and beautiful appearance, she has a proud and outspoken personality. Because the great music in the anime, I'd like to recommend the Frontier series.
16.Satou Matsuzaka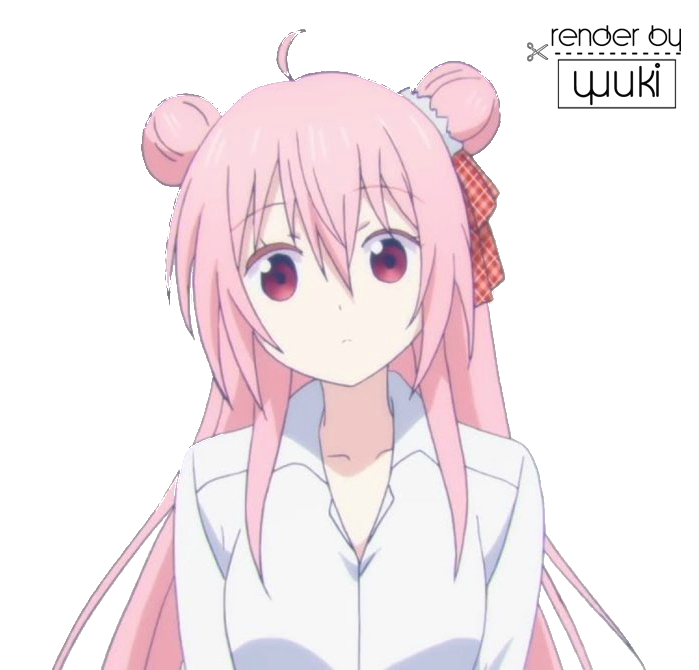 Anime: Happy Sugar Life
Satou Matsuzaka is a beautiful high school girl with pink hair, the main character in Happy Sugar Life. However, the anime seems like cute and lovely, but it is not. Satou Matsuzaka may look sweet on the outside, but inside she's full of sick desire of love. When she meets Shio Koube(another girl), she decides that Shio is her true love, and that she will not hesitate to threaten, imprison or kill for love. This is a controversial Yuri Anime. Satou Matsuzaka is a truly complex and interesting character.
15.Yuki Takeya
Anime: School-Live!
Yuki is an innocent and childish third year student at Megurigaoka High School. She has cute pink hair, and often wears a strange hat in order to cheer up ther fellow School Living Club members. The color of her school uniform was also different from the others students in her grade. The anime is somewhat psychological and weird. Someone loves it a lot, and someone think the anime is a disaster. I don't want to spoil it, so be careful when you decide to watch.
14.Tomoka Minato
Anime: Ro-Kyu-Bu!
Tomoka Minato is a lovely pink-hair girl, a 6th year student in junior school. She is the captain of the girls' basketball team. The Ro-Kyu-Bu anime is about girl basketball, friendship and pure love. It's really super kawaii to watch the lolitas playing basketball. Also, Tomoka's voice is Hanazawa Kana, one of the most popular voice actress in Japan.
13.Louise Francoise le Blanc de la valliere
Anime: The Familiar of Zero
Louise is a 17 years old girl with long, pink hair and pink eyes. She is the heroine of the story. She is the third daughter of the Duke of Valliere and a second year student at the Torristine Academy of Magic. She has an attractive face, but is always teased by her classmates because of her poor magic skills. Her nickname is "The Zero". The main story revolves around the characters who take place in an otherworldly magical school. But Louise treats Saito very badly, with all sorts of beatings and abuse, and many readers and audience hate her a lot.
12.Feldt Grace
Anime: Mobile Suit Gundam 00
Feldt Grace (フェルト-グレイス) is a character from the Mobile Suit Gundam 00. She is the offspring of the second generation of Celestial Being. She has a high popularity among the female characters of the Mobile Suit Gundam work series. She has elegant pink curls. She is a first-class programmer and mechanic, but extremely introverted and rarely speaking at all.
11.Krul Tepes
Anime: Seraph of the End
She is a pretty vampire, looks quite young, but she is one of the vampire's previous ancestors. She's attractive, with pink hair, a gothic loli miniskirt and a batty hairpiece. She is very powerful indeed. She is my favorite vampire in the anime Seraph of the End. And many cosplayers love to cosplay her, because she is really adorable.
10.Hinagiku Katsura
Anime: Hayate the Combat Butler!!
Hinagiku has long pink hair, and with a yellow hair clip and yellow eyes. She is the current Student Council President at Hakuou Academy. She is a perfect girl with a cheerful personality, knows how to joke, and works hard in everything she does. Hinagiku is an expert with swords and is very skillful in kendo. She's athletic all-around and can play basically any sport, and she's always first in the marathon at school. She is loved by anime fans.
9.Millhiore Firianno Biscotti
Anime: DOG DAYS
Millhiore is a cute girl with long pink hair and purple eyes. She is a 13-year-old Princess and representative suzerain of Biscotti Republic. The anime has a lot of girls with cute dog ears. Millhiore also has pink ears and tail, just like a little dog. She always wear pink royal-like skirt, so she's covered in pink. She is also a singer, active in the country and even the world through events and concerts.
8.Nadeshiko Kagamihara
Anime: Laid-Back Camp
She is one of the main characters of the anime, a naive, cheerful and optimistic girl. The sweet pink-hair girl acts and speaks a bit like a dog, afraid of the dark and ghosts. The story is about camping, picnic and school life. This anime is nice and simple, making you feel easy and comfortable. Nadeshiko is so sweet and dorky. Her smile is contagious.
7.Ram
Anime: Re:Life in a different world from zero
Ram is one of the twin maids in the anime Life in a different world from zero. She has short pink hair that covers her left eye, and her twin sister Rem has blue hair that cover her right eye. She usually wears maid uniform. Ram and Rem are the only Oni Bloodline (鬼の血族 Oni no Ketsuzoku) in the world.It is typical shounen-type anime, The story is a teenager boy coming over to another world full of magic, demons, kawaii girls and strange things.
6.Sakura Haruno
Anime: Naruto
Sakura Haruno is one of the main characters in the famous anime Naruto. She is a female ninja with lovely pink hair. Her name, Sakura, is a most well-known pink Japanese cherry blossom. There are many controversial characters in Naruto, but Sakura Haruno has definitely been surrounded by controversy. I think that's because author didn't try enough to build a nice female character in the story.
5.Lacus Clyne
Anime: Mobile Suit Gundam SEED
Lacus Clyne (ラクス・クライン) is an important character from the Mobile Suit Gundam SEED series. She is a popular female singer, and has a natural political aptitude that is extraordinarily perceptive, cool and calm. She have a noble and beautiful appearance, with long soft pink hair, snow-white skin. Her smile that would make anyone feel happy, beautiful and dreamy. By the way, Gundam is one of the best anime of all times.
4.Satsuki Momoi
Anime: Kuroko's Basketball
Satsuki Momoi (桃井 さつき) is the manager of Tōō Academy, and previously manager of the Generation of Miracles at Teikō Junior High. She is in love with Tetsuya Kuroko and sees herself as his girlfriend. She has pink and long hair. Kuroko's Basketball is another popular anime about basketball. However, some anime fans hate her, because she ruins the ships.
3.Chibi-Usa
Anime: Sailor Moon
Chibi-Usa is a cute little girl with 2 pink hair buns. She is also called Sailor Chibi Moon, looking like Sailor Moon a lot. She is my favorate Pink Haired anime girl. She Usagi's daughter, innocent, sweet, insecure and sympathetic. She wants to find courage and love, and try her best to fight. When she was lost, she became the Dark Lady. The Dark Lady's appearance is truly imperial and classic. Being evil is never more attractive.
2.Madoka Kaname
Anime: Puella Magi Madoka Magica
Madoka Kaname is the main character of the Puella Magi Madoka Magica TV series. She is a cute little girl with pink hair tied up with two red ribbons. Her hair is shoulder length when she lets it down, and she has burgundy eyes. When she transforms into a magical girl, she wears a pink dress with lots of ruffles and lace ribbons at the hem.
Magical Girl Koen is the most awarded Japanese television anime of all time. This anime puts a heavy destiny on the shoulders of a young magical girl, creating a dark fairy tale like no other.
1.Zero Two
Anime: DARLING in the FRANXX
I add Zero Two in the list, because she is quite popular among fans, but she wasn't in the Japanese Ranking list of pink hair. The anime aired in 2018, and Zero Two has gained a lot of fans in the past two years . As an elite pilot belonging to APE's special forces, Zero Two is a mysterious and rebellious girl often referred to as a monster due to her red horns and toxic blood.