There are many characters in anime and manga that are related to the fox. In Japanese culture, the fox is regarded as the messenger of the gods. Fox girls usually have powerful magic and charming appearance. And fox girls with fox ears and tail are just too cute, right?
1.Kugen Tenko
Anime: Our Home's Fox Deity (2008)
Kugen Tenko is an ancient supernatural fox deity, who has forgotten its gender, so sometimes he is a man, and sometimes she is a girl. I'm not sure if she can be considered a real "fox girl". Kugen Tenko is a powerful fox deity with a thousand years of practice. She's tricky and loves to play pranks, and often turns into a beautiful girl when she pampers Takagami Noboru.
This Japanese harem anime has been aired for some years now, and there are quite a few kawaii girls in the anime, but overall, it's a funny anime and worth watching.
2.Chizuru Minamoto
Anime: Kanokon (2008)
A timid, virginal boy Kouta, went to a new high school, and met the busty girl Chizuru, who happens to be a fox deity! In addition to the fox fairy, there's a wolf deity, a funny and bad school love triangle between the three species develops strangely.
This is a typical ecchi romance harem anime. The anime has quite a lot of nudity, so if you feel uncomfortable to look at naked animation then don't watch it,
It seems like you've seen the protagonist somewhere, it seems like you've seen the character setting somewhere, it seems like you've seen the erotic plot somewhere. Ok, that's the impression of this anime.
3.Susu Tushan
Anime: Huyao Xiao Hongniang (2015)
Susu Tushan is a fox spirit girl, who is weak in magic and try to be a better "Fox Spirit Matchmaker". She met a young powerful Taoist priest, Yuechu Bai. After some time together and hilarious daily routines, the fox spirit girl and the human Taoist priest made the perfect team. The little fox girl's job is to recall the former lover's memories of former life so that they could remember each other and fall in love once more.
It is an excellent Chinese animation. As a fantasy romance story, it doesn't tell the story in a clichéd way, the plot between several couples and the entanglements between this life and the previous life are all quite touching.
4.Yobi
Anime: Yobi, The Five Tailed Fox (2007)
Yobi, The Five Tailed Fox is a Korean animated movie. Yobi is a one hundred years old fox, but she is pure and innocent as a little girl. In the story, if a fox wants to transform into a human it has to kill the human to get the power, and the human keep hunting the foxes in self-defense. To Yubi, humans are synonymous with stupidity and have absolutely no desire to become human, until one day she meets a boy named Kuniyi.
Yubi lives six aliens who mistakenly landed on Earth, and they go to school and live with people. Life is dangerous for them, and the relationship of human is complicated…
5.Sawatari Makoto
Anime: Kanon (2006)
Sawatari Makoto is a kawaii girl with blonde hair. She has lost her memory and can't remember anything except that her name is Sawatari Makoto. She hates the protagonist Aizawa Yuuich even though she can't think of a reason why, so she stays at Yuuich's house and repeatedly attacks him when he is asleep. Her catchphrase is "Auuuuu" and she likes manga and meat buns. She is actually a little fox saved by Yuuich 10 years ago. In human form, she is super cute, and the love story between her and Yuuich is so moving and makes me cry.
6.Yuzu
Anime: Konohana Kitan (2017)
This is a slow-paced slice of life anime, also a good yuri anime. The story is about Yuzu and the other fox girls waitress working at a hot spring hotel called Konohatei. Whether you are a god or a ghost, you can come to Konohatei for a drink and rest for a while. The fox girls are super cute with ears and tears, wearing kimonos. Each episode is a separate mini-story, but each episode's plot has a beginning and an end, and incorporates ancient Japanese culture with the story. The screenshots of the anime are exquisite enough to be used as wallpapers.
7.Holo
Anime: Spice and Wolf (2008)
Holo is a wolf deity (A goddess of the harvest), so she is not a real fox girl, but her appearance is more like a fox than a wolf. She has orange ears and a fluffy big tail.
Spice and Wolf is a unique romance anime. A wolf goddess met a merchant, and they start to go north together for quite different reasons. It can be a road movie, watching the customs of medieval Europa with Holo's eyes. It's also a business movie, get some knowledge of how to do business and trading. It's a slow, relaxing story, not in an exciting style, but it's really a great romance anime.
8.Tamamo no Mae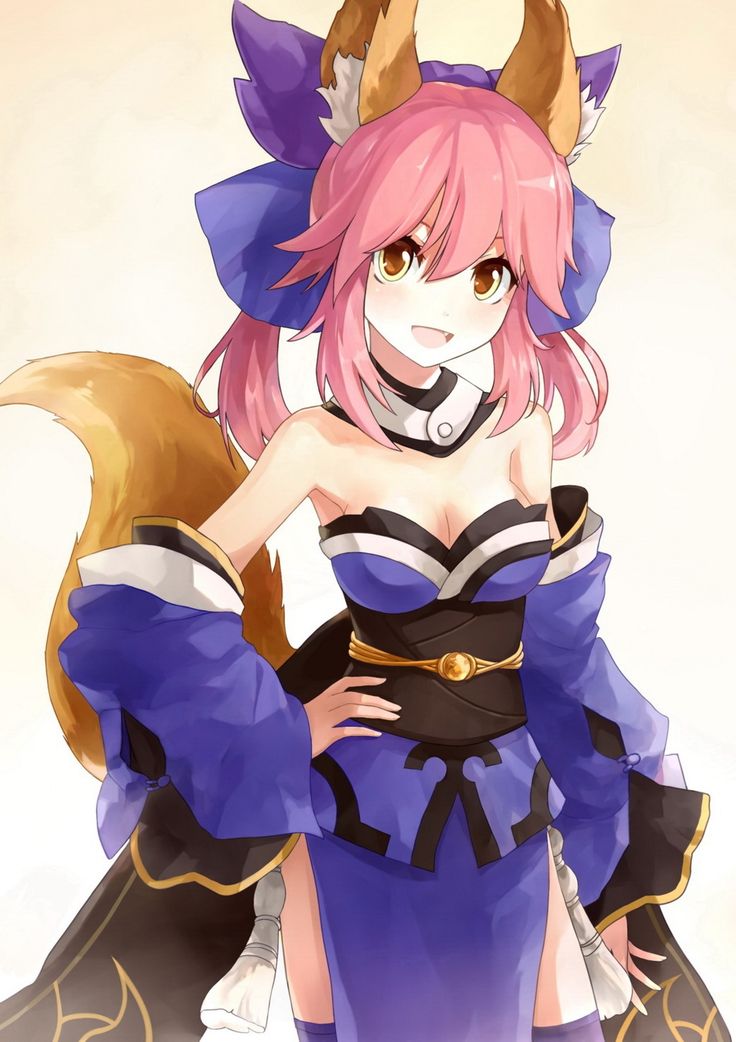 Anime: Omamori Himari (2010)
Tama is a minor character in Omamori Himari. Most of the time Tama appears to be a loli with blonde hair and blue eyes. She is a nine-tailed fox. in a perfect form, she could appear to be a beautiful grown-up woman, but after a battle, she lost her power and became a loli. Omamori Himari is a pretty okay harem and ecchi anime.
9.Youko
Anime: Inukami! (2006)
Inukami is a strong dog deity that could transform into human form. Youko is a jealous and naughty Inukami, who is dedicated to making Keita completely hers. Yoko frequently teleports Keita into a public place without his clothes, causing him to be mistaken for a streaker and arrested for indecent exposure. Due to this, Keita becomes famous hentai, and he has been named Naked King.
The story is really weird. The main character Keita is a pervert, and he met a lot of other perverts and weirdos, a lot of naked guys. But overall the anime is very very entertaining.
Well, Youko is not a real Inukami, she is the daughter of the big fox spirit. So youko is actually a fox girl.
10.Zakuro
Anime: Otome Youkai Zakuro (2010)
Zakuro is a Yokai and the main protagonist for the Otome Youkai Zakuro manga and anime. Yokai is half-demon human. Zakuro is a cute fox girl with black ears and violet eyes. As a member of the Ministry of Spirit Affairs, Zakuro is partnered with Kei Agemaki, who she at first finds attractive. But due to Zakuro is afraid of spirits and demons, she is quickly disgusted with him. There are also other cute fox girls in the anime.